Associate's and Bachelor's degrees are two different degrees you can earn after high school.  Both have their benefits and drawbacks.  Here's the information on each.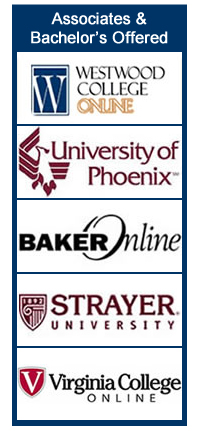 The Associates Degree: Pros and Cons
An Associate's Degree takes only two years to complete at most traditional and online colleges.  Many people choose an Associate's degree because it costs much less than a Bachelor's.  With college education getting much more expensive and college loan debt soaring, it's understandable for students to want to save money any way they can. 
Associate's degrees also keep you out of the workforce for a shorter amount of time.  For non-traditional students who work full-time or take care of young children, time is a crucial issue.  You can earn an Associate's degree at an online college in the same amount of time as at a traditional school, but you'll have more flexibility to work and care for children while you do it.  For many adults, online education is the better choice.
The problem with an Associate's degree is that in the workforce, you'll be competing with other applicants who have Bachelor's degrees.  Most people who hold Associate's degrees are interested in white-collar jobs in science and technology, business, government, or some other office or professional setting—the same jobs Bachelor's degree holders apply for. 
When recruiters receive hundreds of resumes for each job posting, it's easy to use education level as a way to shrink the field—and you may find your resume discarded without serious consideration.  Many of these jobs don't consider applicants with less than a Bachelor's degree at all, no matter how good your resume looks.
One benefit of the Associate's degree is that it is easy to use to get a Bachelor's degree.  To save money, many students earn a two-year degree at an affordable community college, or earn an online degree.  Then they'll transfer to a more prestigious four-year university and apply their Associate's credits for a Bachelor's degree.  It can be difficult to transfer credits from an online college to a traditional school, so make sure you check with your online college before making the switch.
The Associate's degree usually allows these students to attend the four-year college for only two years.  At the end, they receive a degree with the four-year college's name on it.  They only have to pay for two years at the more expensive college, and can earn a Bachelor's degree there for a fraction of the cost.  Some schools encourage this by partnering with schools that offer Associate's programs and allowing credits to transfer easily.
The Bachelors Degree: Pros and Cons
Bachelor's Degrees increase your professional options.  It's practically essential to have one if you want to compete on a level playing field with peers of your experience level.  And it qualifies you for higher-earning positions than you'd have access to without one.
Most of those who decide to put off earning a Bachelor's degree regret it.  They find that they must work harder to prove themselves in every position than those with four-year degrees; they have more difficulty finding jobs in most white-collar industries; and they are taken less seriously in the workplace. 
It can be extremely difficult to earn a Bachelor's degree later in life.  For most adults, it's impossible to set aside a full-time job or the needs of family to get a degree.  For these students, online colleges with flexible schedules are often a better option than traditional campus schools.  As online education grows in acceptance, going back to school as an adult is likely to become easier.
The biggest problem with Bachelor's degrees is the cost.  College tuition costs are rising much faster than cost-of-living expenses from year to year.  Often parents and students must rely on private loans to finance college.  This can result in crushing student loan debt later.  Private loans have high, variable interest rates, and they usually can't be consolidated.  Students earning online degrees can work full-time more easily while attending an online college, and they may be better able to pay tuition while they attend school.
Both Associate's and Bachelor's degrees have their positive and negative points.  Even though it's expensive, most people still believe a Bachelor's degree is worth it.  But if you can't afford the money or time, an Associate's degree can be a good way to save money on an education.